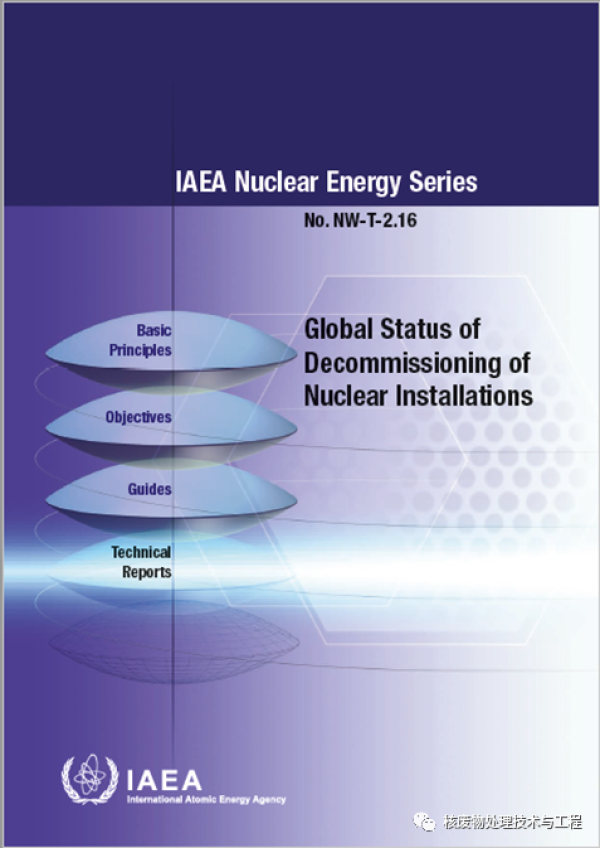 2023年4月10日,IAEA在其网站上发布了《全球核设施退役现状》报告(Global Status of Decommissioning of Nuclear Installations)。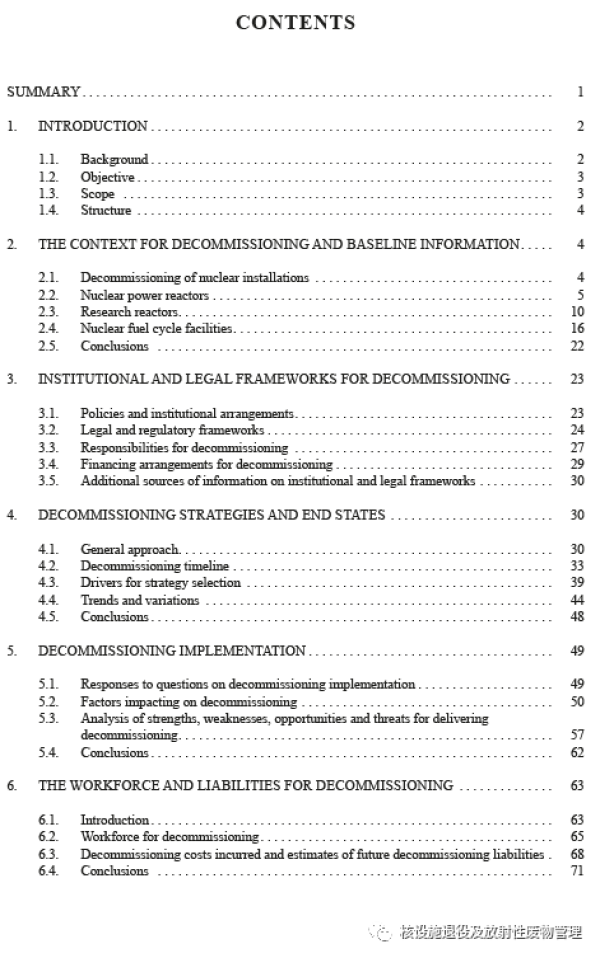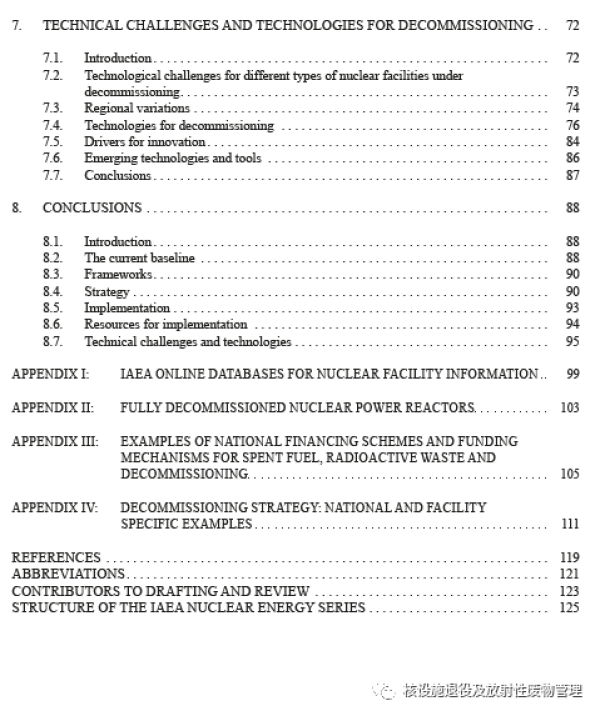 报告共分为八章。第一章为引言;第二章为退役背景和基线信息,包括全球核设施的概述;第三章为退役机构和法律框架,包括各国退役政策、机构安排以及法律和监管体系;第四章为退役策略和终态;第五章为退役实施,讨论了影响退役计划实施的主要因素;第六章为退役责任和人力资源;第七章为退役技术及技术挑战;第八章为结论。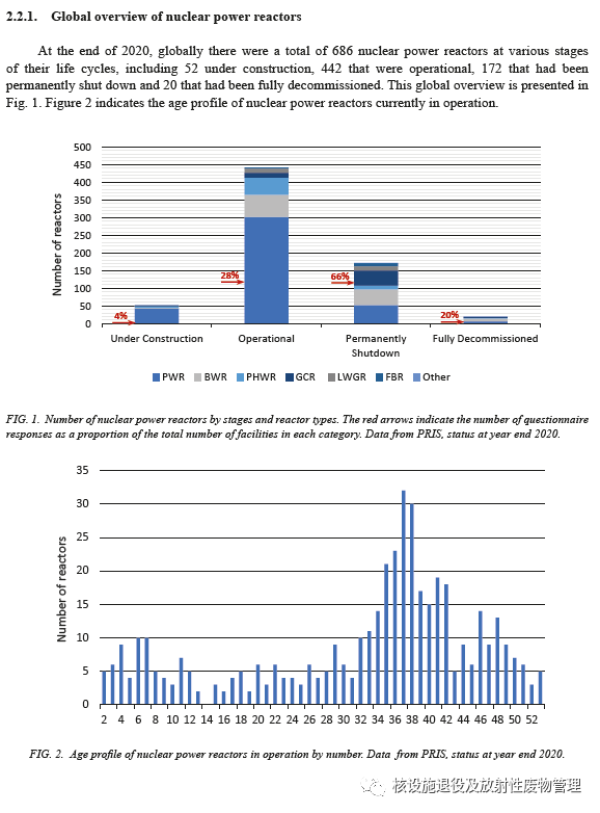 截至2020年底,全球共有686座核反应堆处于其生命周期的不同阶段,其中52座正在建设中,442座正在运行,172座已永久关闭,20座已完全退役。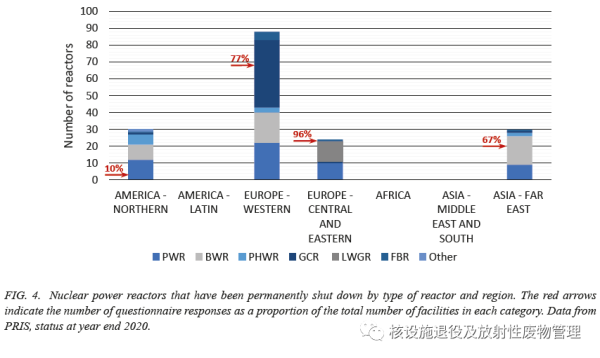 The PRIS database shows that there are 172 NPP reactors that have entered into permanent shutdown7, including those that are currently undergoing decommissioning, as shown in Fig. 4. The majority of the nuclear power reactors that have been permanently shut down are found in the PRIS region of Europe — Western (51%). Equal numbers of permanently shutdown reactors are found in America — Northern and Asia — Far East (both 17%), followed by Europe — Central and Eastern (14%). Of the reactor types that have been permanently shut down, PWRs are the most common (31%), followed by BWRs (26%) and GCRs (25%).
PRIS数据库显示,包括目前正在退役的反应堆在内,共有172座核电站反应堆进入永久关闭状态,如图4所示。大多数被永久关闭的核反应堆位于欧洲西部的PRIS地区(51%)。美国北部和亚洲远东地区永久关闭的反应堆数量相同(均为17%),其次是欧洲中部和东部地区(14%)。在已经永久关闭的反应堆类型中,压水堆是最常见的(31%),其次是沸水堆(26%)和极冷堆(25%)。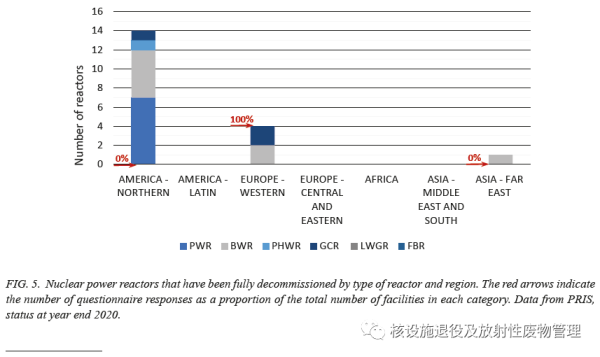 按反应堆类型和地区划分的已完全退役的核动力反应堆。红色箭头表示问卷答复数占每一类设施总数的比例。数据来自PRIS,截至2020年底。
目前,已经完全退役的动力堆有20座,如图5所示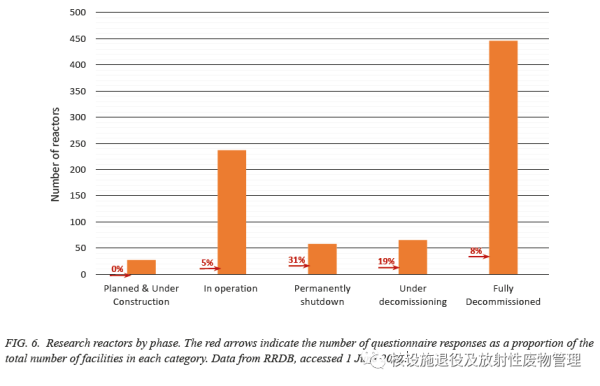 研究反应堆的各个阶段。红色箭头表示问卷答复数占每一类设施总数的比例。数据来自RRDB,于2021年6月1日。
The RRDB lists 833 research reactors globally in the phases: planned and under construction; in operation or temporary shutdown; permanent shutdown; under decommissioning; and decommissioned13. The largest grouping is those research reactors that have been fully decommissioned (446), comprising 54% of the total. The second largest category is research reactors in operation or temporary shutdown (237), comprising 28% of the total. There are 123 research reactors that have been permanently shut down, including those currently in decommissioning (15%).14 A further 27 research reactors are planned or under construction (3%). This global overview is shown in Fig. 6.
RRDB列出了全球833个处于规划和在建阶段的研究堆;运行中或暂时停机;永久关闭;在退役;和decommissioned13。最大的一组是已经完全退役的研究堆(446座),占总数的54%。第二大类别是正在运行或暂时关闭的研究反应堆(237座),占总数的28%。包括目前正在退役的反应堆在内,有123座研究反应堆已经永久关闭(15%)另有27座研究反应堆正在计划或建设中(3%)。这个全局概览如图6所示。
There were questionnaire responses from 77 research reactors. Of these, the largest category is research reactors that have been fully decommissioned (35 reactors). The second largest grouping is research reactors that have been permanently shut down, including those currently under decommissioning (31 reactors). The questionnaire response sample has 11 operational research reactors. There were no responses from research reactors planned or under construction.
有来自77个研究反应堆的问卷调查。其中,最大的一类是已经完全退役的研究反应堆(35个反应堆)。第二大类别是已经永久关闭的研究反应堆,包括那些正在退役的反应堆(31个)。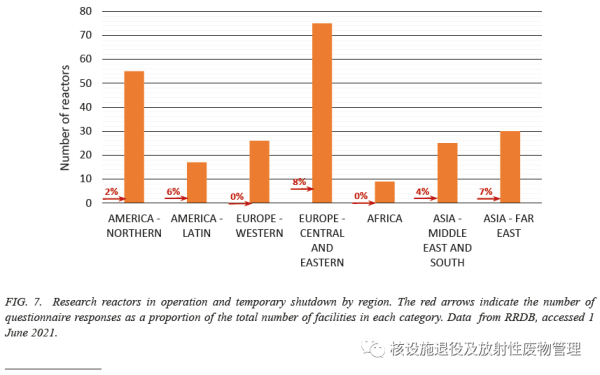 FIG. 7. Research reactors in operation and temporary shutdown by region. The red arrows indicate the number of questionnaire responses as a proportion of the total number of facilities in each category. Data from RRDB, accessed 1 June 2021.
图7所示。按地区研究正在运行和暂时关闭的反应堆。红色箭头表示问卷答复数占每一类设施总数的比例。数据来自RRDB,于2021年6月1日访问。
The RRDB lists 123 research reactors that have been permanently shut down, including those currently in decommissioning (15% of all research reactors globally). It further subdivides 'permanent shutdown' into 'permanent shutdown but not under decommissioning' and 'under decommissioning'.
RRDB列出了123个已经永久关闭的研究堆,包括那些正在退役的(占全球研究堆的15%)。它进一步将"永久关闭"细分为"永久关闭但不退役"和"退役"。
The RRDB subgroup of research reactors in permanent shutdown but not under decommissioning comprises 58 reactors (47% of the permanently shutdown reactors and 7% of all research reactors)
永久停堆但未退役的RRDB研究堆包括58座反应堆(占永久停堆的47%,占所有研究堆的7%)
7.2. TECHNOLOGICAL CHALLENGES FOR DIFFERENT TYPES OF NUCLEAR FACILITIES UNDER DECOMMISSIONING
The different types of nuclear facilities for civilian and commercial use (nuclear power reactors, research reactors, fuel facilities) impose different requirements for decommissioning and hence present different challenges regarding the technologies that are needed to decommission them.
Unique decommissioning challenges requiring bespoke technological solutions may arise where incidents or accidents have resulted in activity entering other areas of a facility or the release of contamination to the environment.
7.2.1. Nuclear power reactors
Future decommissioning was not always considered at the time NPP reactors were constructed, particularly in the case of older reactors. The designs are optimized for safe operation and reliable electricity generation rather than decommissioning. This leads to challenges, including the characterization of the facility, the accessibility of components, and the safe dismantling of large components and concrete structures.
In and around the reactor core, materials are highly activated due to high neutron fluxes. The high radiation levels prevent access by people, which means that characterization has to be done remotely or estimated with computer models. Further, the dismantling activities may need to be carried out remotely underwater or behind other shielding. Additionally, the complexity of systems and structures has to be considered.
The dismantling and removal of large components is a key element for the successful decommissioning of a nuclear power plant reactor. The reactor pressure vessel has to be dismantled and cut, with the resulting waste managed appropriately. The approach selected for this activity requires special equipment to complete the task. Steam generators are often removed as a whole piece. Their size, weight and location pose various engineering challenges and they typically require specialized equipment for technical activities, heavy lifting and transport.
7.2.2. Research reactors
Many research reactors are unique because they were designed and constructed to meet particular needs. This uniqueness leads to a broad range of technical challenges during decommissioning. Experience has shown that the construction methods and materials used are often insufficiently documented, as may also be the case for the operational history. Decommissioning may be further complicated as a consequence.
Additional facilities are often associated with research reactors, such as nuclear laboratories, hot cells, fume hoods, workshops and other experimental equipment that may have become radiologically contaminated and have to be decommissioned, leading to a broad variety of challenges of their own. Depending on the type and the use of the research reactor, transuranic and exotic radionuclides may be present in the facility. To detect these radionuclides and characterize the facility correctly is significantly more challenging, especially with pure alpha or beta emitters, unless their presence is anticipated.
Research reactors are typically significantly smaller than nuclear power reactors, which results in a smaller total amount of waste. In general, decommissioning of a research reactor is a smaller scale project than for a NPP reactor and is carried out by fewer people, while the radiation levels may be lower.
7.2.3. Fuel cycle facilities
As with research reactors, many FCFs are unique in their construction and operation, resulting in unique challenges in decommissioning and new applications of technologies. Fuel handling facilities typically include heavy equipment for flask handling, decanning or shearing and for dissolution. On‑site, tanks or ponds may contain contaminated water and sludges. Fuel reprocessing facilities can have high radiation fields that complicate the decommissioning activities, and may require the use of remote technologies.
Plutonium handling facilities may have to consider criticality during decommissioning activities. Further, special containments such as gloveboxes or ventilated enclosures may be needed for dismantling works to avoid the spreading of alpha contamination, which poses a higher risk to workers from ingestion and inhalation. In such situations it is challenging to characterize the facility accurately prior to dismantling. There are also different challenges for wet product and dry product. Wet product cannot be stored in sealed containers, as it generates hydrogen, pressurising the containers and creating an explosion risk. Dry product is highly mobile and can remain suspended in the air for long periods. Decontamination of dry gloveboxes and equipment is very time consuming.
Waste facilities present challenges because of the wide range of wastes that have to be treated. These will include active liquid wastes that usually require solidification. as well as intermediate and low level wastes in solid form. Special wastes such as contaminated graphite, asbestos, mercury, etc. are given particular focus. Interim waste storage facilities generally have a simple design and their operation does normally not result in any contamination, as the stored radioactive waste is already treated and safely packed.
该报告可为核设施退役的标准、规划和决策制定提供重要参考,促进解决核设施退役领域所面临的挑战和合作机遇,并填补了全球核设施退役活动概况方面的知识空白。